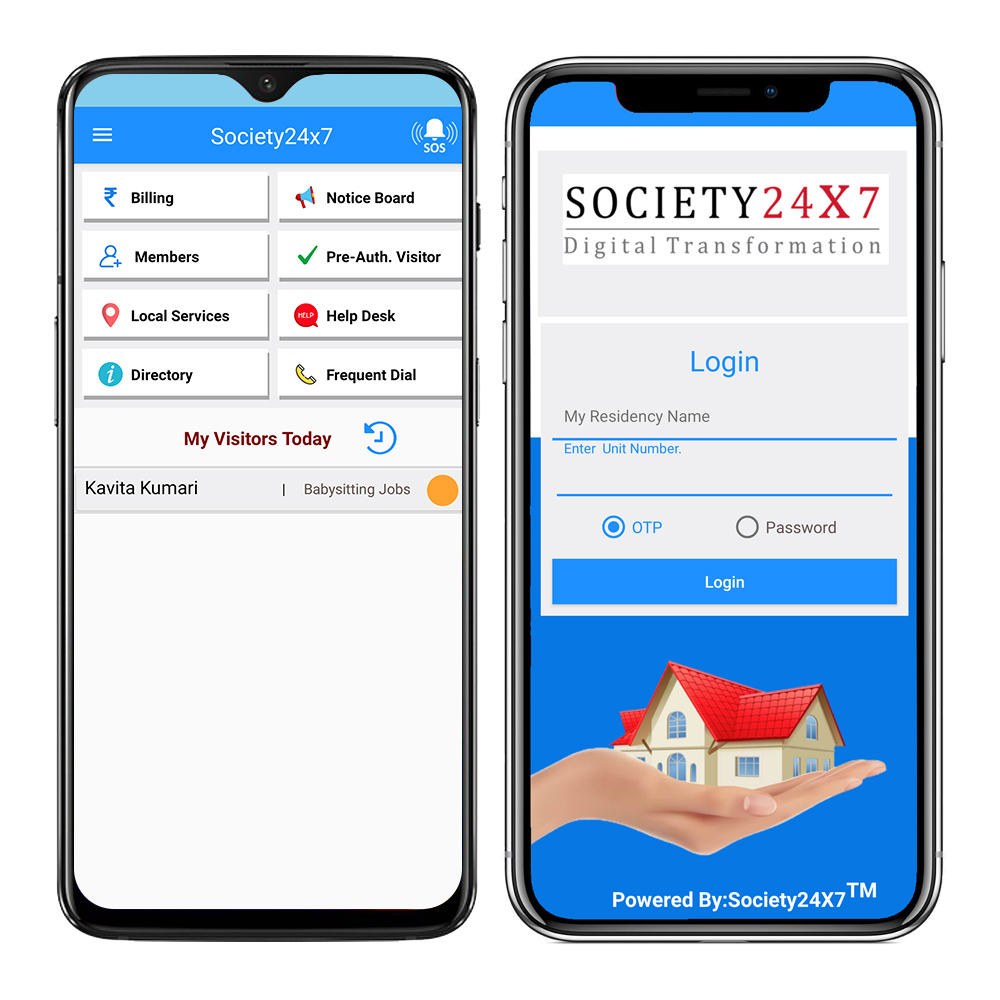 Mobile App for Residents
How's that when you buy a house in a world class society and wondering for every small issues & updates around; in your initial days? Isn't that right if it happens then it makes you irritated sometimes? Small things like, knowing outstanding dues, utility bills copy, Payment confirmation, Common facility booking, finding do's and don't, Club timings & access rights, swimming pool updates, Visitor's entry at security gate, Domestic Helpers & services management and many more like this are going to be part of our lives in particular in any residency whether its high rise or floors. We have heard of many cases during the research process of developing this solution which indicates that buying home in an apartment is just the first step you took towards happy life. To be able to adopt happy and smooth living; you have to manage so many small things on own in daily routine as stated above and few more like finding shops nearby, Looking to hire a car cleaner, Parking issues, attending intercom calls every now and then, searching for helpful numbers for household works, Walking to management office for bills, dues, important notices, Payment receipts, booking community hall for events, raising and tracking complaints manually and many more to be added here...
We at SOCIETY24X7™ empowers you to manage anything and everything on your own in just a few finger taps on your android or iOS mobile device. Its super simple smooth solution from us which makes you live like pro while working in office hours or enjoying on weekends without being worried about society related concerns.
Mobile App for Residents Features
Dues & Payments
Check dues & make online payments. See your unit statement online, download monthly invoices and so on…
Pre-Authorize your guests
Give your guest a pleasant & seamless experience of visiting you. Preauthorize them for entry.
Online Notice Board
Don't miss out on any updates or circulars from your society office. Be notified and access them at one place
24/7 Directory Access
Access all your society's important name & numbers in one place. Dial them directly without feeding it
Online complaints
Now raise & track all your complaints through mobile app. Include pictures & reopen if not satisfied
Approve or Decline your visitors
Whenever any unplanned visitor at your society main gate; its your call to allow them or send back without talking to them
Domestic Helper Management
Now you can hire maid, nanny, cook etc. within app and keep track of their check-in & check-out
Local Services
Search for local services around you using our integrated categories like Laundry, Mechanic, Restaurants and many more
Multi user Platform
Your all family members can install and start using this mobile app like a pro. Create different passwords for all
Frequently Asked Questions (FAQs)